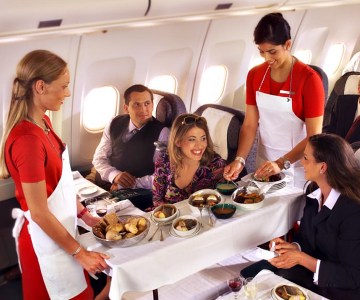 OVERVIEW

Delta Air Lines was the number three air-passenger carrier in 1999, behind number one American Airlines and number two United Airlines. Delta's goal was to move up in the rankings to number one, at least in the eyes of its customers. But as consumer dissatisfaction with the airline industry overall continued to increase, Delta's main challenge was to convince people that air travel did not have to be a negative experience. To reverse the negative perception consumers had of air travel, and to win over customers, Delta in 1999 replaced its longtime ad agency BBDO with the Leo Burnett Company. Leo Burnett created a branding and advertising campaign for Delta that began in March 2000. Titled ''The Passenger's Airline,'' the campaign was unique in that it had no specific tagline, theme song, or celebrity spokesperson. Rather, the television spots, radio spots, and print ads focused on passengers, their needs, and how Delta was working to meet those needs. The campaign reached its target audience, and in 2001 it received a Silver EFFIE Award for achieving its goal of mending the damaged relationship between Delta and its customers, particularly frequent business fliers. Following the September 11, 2001, terrorist attacks in the United States that included the hijacking and crashing of four commercial airliners, consumers fled from air travel. Because Delta's ''The Passenger's Airline'' campaign had resonated so well with the airline's customers, the Leo Burnett Company's team revamped it for the circumstances. With the title ''Person to Person,'' the modified campaign remained passenger-focused and was designed to show how Delta could help bring people together.


HISTORICAL CONTEXT

In 1924 Huff Daland Dusters was founded as the world's first aerial crop-dusting company. The company quickly evolved to offer passenger service under the name Delta Air Service. Delta's first passenger flights began in 1929, carrying passengers from Dallas, Texas, to Shreveport, Louisiana, and from Monroe, Louisiana, to Jackson, Mississippi. In 1930 service was expanded to include Atlanta, Georgia, followed in 1934 with a name change to Delta Air Lines. In 1946 Delta's millionth passenger climbed on board. Delta Air Lines merged with Northwest Airlines in 1972, becoming a key carrier in the New York/Boston market. Delta continued to grow, merging with Western Airlines in 1987 and purchasing Pan Am's transatlantic routes in 1991 to become a global carrier. Air Transport World magazine named Delta the global airline of 1998.
To promote its flights between Chicago and Miami, Delta in 1945 hired the Montclair, New Jersey–based advertising agency Burke Dowling Adams (BDA) to create a marketing campaign. The $150,000 campaign had the tagline ''Trunkline to Sunshine.'' BDA merged with another agency, BBDO of Atlanta, in 1964. In 1968 BBDO launched the campaign ''Delta Is Ready When You Are,'' which was used by Delta for 16 years. The ''We Love to Fly and It Shows'' campaign followed in 1987. In 1994 BBDO repositioned Delta's marketing to focus on the airline's customer service and introduced the slogan ''You'll love the way we fly.'' But in 1997, after 51 years of serving as Delta's creative agency, BBDO resigned the airline's account when Delta opened the door to other ad agencies. According to a report in the Atlanta Journal-Constitution, Delta's decision to pursue other agencies was based on the failure of BBDO's 1996 campaign, ''Delta Marathon,'' which was designed to promote the Atlanta Olympics. At the time BBDO stated that it preferred not to compete with the three other agencies vying for Delta's account: Ogilvy & Mather, Ammirati Puris, and Saatchi & Saatchi. BBDO stated further that during the review process it came to believe that Delta had already removed the agency from consideration.
When the dust settled, Saatchi & Saatchi, an agency based in New York, was selected to handle Delta's $100 million advertising account. In September 1997 ''You'll love the way we fly'' was pulled, and Saatchi's new campaign for Delta, ''On Top of the World,'' was launched. The agency's relationship with Delta did not have the staying power that BBDO's did, however. In 1999, amidst management upheaval at the airlines and complaints that the theme ''On Top of the World'' was obtuse and unsuccessful, Delta again looked for a new agency to handle its account. Besides Saatchi & Saatchi, in the running were the Leo Burnett Company, TBWA Worldwide, and Grey Advertising. Leo Burnett won the $100 million account and in March 2000 launched Delta's global campaign, ''The Passenger's Airline.''


TARGET MARKET

In 1999 Delta conducted a study of its customers, and the results revealed that, although the airline typically reported high ratings for customer satisfaction, it was experiencing the effects of a negative perception of the airline industry. Many business travelers had become distrustful of airlines and their broken promises of better service, shorter check-in and boarding lines, on-time departures and arrivals, and no lost luggage. Delta considered such travelers to be one of its key market demographics. According to a report submitted for consideration by the EFFIE Awards, the airline's primary target audience was ''Road Warriors,'' that is, 25- to 54-year-old men who flew on more than six trips annually. Steve Crawford, executive vice president of client services at Leo Burnett, told Adweek that the ''Passenger's Airline'' campaign was designed to address a split between the airline and its customers. ''There's a relationship between the business traveler and the airlines that's really important,'' Crawford said. Recognizing the importance of that relationship, Lisa Bennett, executive creative director at Leo Burnett, added that the two-phase campaign would focus on the passenger's experience of flying Delta Air Lines and on addressing customer concerns.


COMPETITION

As the skies became more crowded and passenger numbers inched up, reaching more than 700 million travelers boarding 9 million flights in 2000, complaints about airline service were also on the rise. A report by the National Institute for Aviation Research at Wichita State University found that, despite promises by airlines to improve their services in 2000, overall they had not. The U.S. Transportation Department reported that from 1999 to 2000 the number of complaints had risen 20 percent, to nearly 3 complaints for every 100,000 passengers. The number one airline, American Airlines, a subsidiary of AMR Corp., and low-fare upstart Southwest Airlines Company, were among the companies reviewing methods to attract passengers and to respond to complaints of everything from long lines in the terminals to cramped quarters on the planes. American Airlines focused on making passengers more comfortable once they were on board. In 2000 American expanded the free space inside its planes by removing two rows of coach seats in each of its 700 jets. The project cost an estimated $70 million. To support the effort American launched what it described as an amusing advertising campaign themed ''More Room throughout Coach.'' Developed by ad agency TLPDallas, it was specifically aimed at business travelers, those who fly most. The campaign was twofold: it promoted the additional legroom on the planes, and it responded to the question of what had happened to all the seats that had been removed. The ''Great American Seat Take-Off'' portion of the campaign gave people a chance to win two of the removed seats and two roundtrip coach tickets to any American Airlines destination. Ads for the promotion ran in major daily newspapers across the United States. ''More Roomobile,'' part two of the campaign, was a traveling trailer set up like the inside of a remodeled American jet. It toured to 27 cities and gave people along the route the opportunity to play games and win prizes such as American Airlines golf tees, baggage tags, and T-shirts.
Southwest Airlines targeted business travelers, typically men between 25- and 54-years-old. In 2000 the airline signed a four-year sponsorship deal with the National Hockey League that was designed to reach hockey fans who also fell into Southwest's target demographic. The agreement included a deal with ABC television that included broadcast commercials, sponsorship during hockey-game intermissions, and showing Southwest's logo on goal replays. Also in 2000 Southwest worked with its Austin, Texas–based agency GSD&M to launch a marketing campaign to promote its website. The campaign's tagline, ''A symbol of e-freedom,'' was a variation on Southwest's familiar ''A symbol of freedom'' slogan. TV spots portrayed people in unpleasant daily situations adjacent to images of them enjoying pleasant vacations. The message was: ''When the going gets tough, get going to southwest.com to book a quick getaway.''


MARKETING STRATEGY

The Leo Burnett Company, which had created the successful ''Fly the Friendly Skies'' theme for United Airlines, was hired by Delta Air Lines in 1999 to develop a new global branding and advertising campaign for the air carrier. A report in the Cincinnati Post stated that, prior to developing the campaign, Leo Burnett's team interviewed thousands of the airline's passengers and employees. The interviews considered every aspect of a traveler's experience with the airline, from making phone reservations to gate announcements in the terminals and employee uniforms. Based on the information it gathered, Leo Burnett created Delta's ''The Passenger's Airline'' campaign. The $100 million worldwide campaign did not sing Delta's praises with catchy taglines or songs, and there was not a celebrity spokesperson in sight. Rather, the campaign focused on strengthening Delta's business relationship with its passengers by promoting what Delta had to offer from the perspective of passengers. Included was a redesigned delta.com website, more casual uniforms for employees, and advertising with television and radio spots and print ads. Lisa Bennett, executive creative director for Leo Burnett, told Adweek, ''We didn't want this campaign to come across as corporate in nature. Rather than Delta saying, 'This is who we are,' we wanted to sign off with the passenger point of view.'' Kick-off television spots aired on CBS during the 2000 NCAA basketball tournament. The commercials featured a variety of air travelers, from backpackers looking for a bargain to a businessman dressed in a suit. In each spot a text bubble appeared over the passenger's head with thoughts such as ''Wants a window seat'' and ''Nap'' followed by a voice-over asking, ''How do you want to fly?'' Other spots entailed airport vignettes that focused on passengers' needs. One portrayed a passenger stopping in an airport terminal ice-cream shop and lingering over a cone. The message was that the passenger had time to enjoy the ice cream because he had used Delta's E-ticketing and avoided long lines at the airline's terminal counter. It concluded with the statement, ''Check in at the curb and go straight to the plane.'' Some spots closed with shots of personalized luggage tags on which passengers wrote their desires. In one spot a group of passengers were shown waiting at a baggage carousel, and the tag read, ''Fly . . . understood.'' Print ads, which appeared in major magazines, were similar to the TV spots. In one promoting Delta's BusinessElite international service, the baggage tag read ''Fly . . . like an '80s bond trader.''


OUTCOME

Despite the lack of a catchy tagline or theme song to resonate with consumers, ''The Passenger's Airline'' campaign achieved it goals. The campaign was presented a Silver EFFIE Award in 2001 for its success in reconnecting the airline with business travelers, for joining the company's complete roster of product offerings under one umbrella, and for increasing brand regard at a time when consumers had a deep distrust of airlines. But by the end of the year Delta was embroiled in disputes with its employee unions. In November 2000 the airline was forced to cancel 375 flights because of a pilot shortage, affecting thousands of its customers. Under threats of delayed or canceled flights, Delta was struggling to maintain the consumer confidence the campaign had helped build. The terrorist attacks on September 11, 2001—in which four commercial airliners were hijacked and crashed into the twin towers of the World Trade Center in New York, the Pentagon, and a field in Pennsylvania—further eroded consumer confidence in air travel and in airlines as a whole. Delta was forced to take another look at its successful marketing campaign. Rather than abandon the campaign, however, the Leo Burnett agency modified it for the circumstances. Maintaining the same focus on customers that ''The Passenger's Airline'' had used, the revamped campaign introduced a new series of advertisements, themed ''Person to Person,'' designed to reinforce the importance of people being together in person.