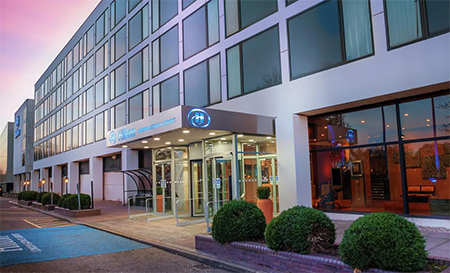 Hilton's quest to forge a unified brand image occurred while many of its rival upscale hotel chains were striving to do the same. According to the Wall Street Journal, hotel occupancy rates in 1998 had reached a four year low because of overbuilding. At the same time, the industry was in the midst of a significant consolidation. Chains such as Marriott and Renaissance merged with each other to help bolster their presence on a national and global scale. The result of these agglomerations was a degree of industry-wide uniformity, as local or regional properties with their distinct characteristics, selling points, or histories, were folded into often generic multinational conglomerates. ''If you ever stay in a three- or four-star hotel, they are increasingly offering more or less the same product and levels of comfort,'' Greg Delaney, one of the creative forces behind ''It Happens at the Hilton,'' told Marketing Week. While hotels had once used such features as excellent service or a four-star dining room to differentiate themselves, by the mid-1990s, ''these [were] standard in each sector,'' noted Marketing Week. ''The only way that hoteliers [could now] stand out [was] through brand building.''
One of Hilton's most formidable rivals was the Hyatt Hotels Corporation, which embarked on an updated global branding campaign in 1999. Created by agency Cramer Krasselt, these print ads targeted individual business and leisure travelers, meeting planners, travel agents, and corporate travel planners. While the campaign built upon Hyatt's slogan from a pre-existing campaign, ''Feel the Hyatt Touch,'' it avoided the conventional formula of using service and traveler bonus programs as its focal point. Like Hilton, Hyatt acknowledged that ''in the minds of our target audience, the difference between major hotel chains is becoming less and less apparent,'' a Hyatt spokesperson told Advertising Age on October 19, 1998.
Another large hotelier, Holiday Inn Worldwide, had launched its first branding campaign in 1997 to support its Crowne Plaza chain of high-end hotels. This campaign, ''Get to Know Us, We'll Get to Know You,'' used famous ''business personalities . . . to give the somewhat stony corporation a relatable face,'' explained the January 27, 1997, Brandweek. With agency Scaros & Casselman, Crowne selected celebrities who reflected the interests of its targeted guests to appear in its ads. For instance, Crowne used Armour Golf CEO Michael Magerman in a television spot that humorously showed hotel staffers so accustomed to Magerman's indoor golfing that they gracefully avoid golf balls flying across lobby floors as a matter of course. ''A lot of upscale hotel users' principal hobby is golf,'' Crowne's marketing vice president told Brandweek. ''Michael Magerman is an up-and-coming CEO, and, at 34, a prototypical Crowne Plaza user.'' Other spots depicted various comparable business leaders.
Some of Hilton's other competitors began to institute similar marketing programs as well. Marriott International, which had acquired Renaissance in 1997, consolidated its massive ad account in 1998 in order to better broadcast its message. Promus Hotels Corporation's Doubletree and Wyndham Hotels and Resorts, on the other hand, continued to stress the traditional attributes of pleasant rooms and attentive service, according to the June 28, 1999, issue of Advertising Age.